Against the Grain Gourmet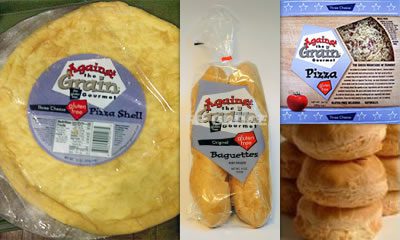 Against The Grain is committed to baking gluten free products using the natural properties of real foods. We combine innovative, artisan baking techniques with naturally gluten free ingredients to stabilize, bind, and leaven our breads. In fact, we don't use a single ingredient that you couldn't find in your own pantry. The result is a line of products with absolutely no compromise in taste, quality, and texture. We are a celiac-owned family business. Like you, we have to navigate our way through the maze of specialty and mainstream gluten free products, some excellent, some not so good, some we trust implicitly, some that have given us reason to doubt them.
We strongly believe in supporting our local economy and family farms. We buy all of our ingredients, supplies and services locally whenever possible and don't cut costs at their expense. We work with Efficiency Vermont to source the most energy-efficient heating, cooling, lighting, and equipment, and we recycle vast amounts of cardboard, paper, and cans.
---
Beckah's Bangin' Butter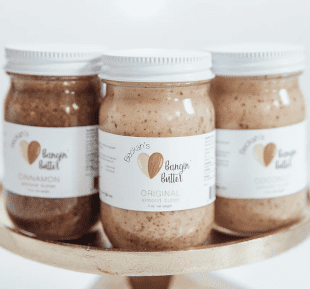 Beckah's Bangin' Butter is a homemade almond butter made with simple and clean ingredients. Our recipe consists of almonds, coconut oil & sea salt. THAT'S IT! Bangin' Butter is unsweetened, low-carb, gluten-free, vegan, dairy-free and packed with protein, making it a staple in each personal diet and lifestyle. Each jar is made fresh in small batches and can be safely kept in your pantry, fridge, gym bag, or the cup holder of your car! All butter is packaged in food grade, clear, plastic jars with tamper-evident pressure seals.
And we don't just do almond butter. Try our new Bangin' Butter bars! A decadent blend of oats, honey, bangin' butter & chocolate chips, coconut, cinnamon or cranberries. Perfect for a morning kick or a late afternoon pick-me-up!
---
Coastal Maine Popcorn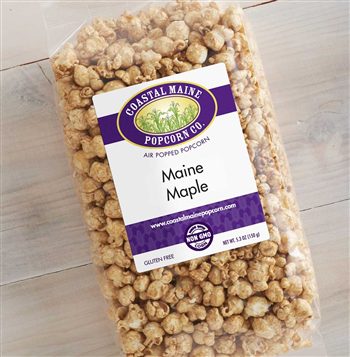 Quality, Handmade Popcorn
We happily acknowledge that our popcorn is labor-intensive. All of our popcorn is made by hand, one batch at a time, and hand-sifted to ensure that our customers don't end up with broken pieces and unpopped kernels. We focus on quality throughout the entire process. When our customers buy Coastal Maine Popcorn, they are buying a product made with the highest quality, honesty and integrity.
We never compromise by using cheap products or processes, and we work diligently to source only the best ingredients. Some of our savory flavors include olive oil, pink Himalayan sea-salt, all-natural rosemary and garlic oils, and cheeses sourced from a Kentucky dairy farm. Our popcorn is the foundation for all of our fun and lively flavors, so it is always made with the best non-GMO corn we can find. All of our NESF flavors are gluten free. We air pop our popcorn, rather than using oil, which makes it healthier, crunchier, and provides a longer shelf life than oil popped varieties.
---
DePuma's Ravioli
All of DePuma's pastas are hand crafted and not mass produced for ensured perfection. Their gluten free pasta contains only the highest quality ingredients available. DePuma's gluten free pastas continue to be praised by its customers as the best gluten free pasta available!
DePuma's originated with the idea of creating a recipe that would taste and have the same texture of traditional pasta. With plenty of trial and error and over a year of perfecting, DePuma's has developed a gluten free pasta that people from all walks of life can enjoy…even those with dietary restrictions!
---
eco bean+greens Dressings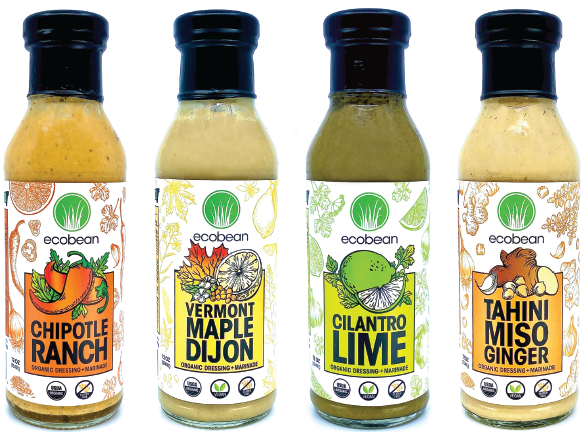 At ecobean+greens cafe in South Burlington, Vermont, we constantly received customer requests to bottle our best-selling dressings. We listened! Our dressings – made with the cleanest sourced ingredients available – are now bottled and sold in select markets. We're:
– organic
– 100% gluten free
– 100% soy free
– 100% GMO free
We can honestly say that every single batch of dressing+marinade we make is infused with love and gratitude for our amazing customers. Enjoy our dressings on salads, as a marinade for seafood, meat and veggies, as a dip or for barbecuing!
---
eco bean+greens Frozen Smoothies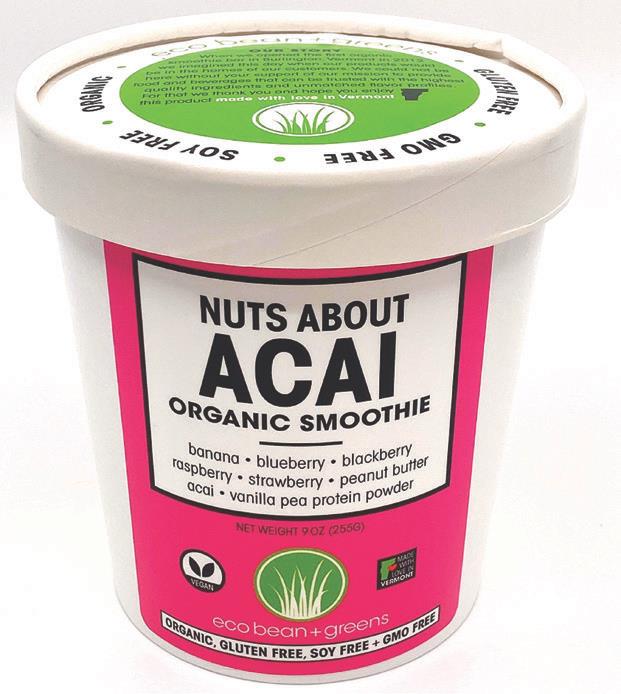 At eco bean+greens, we have been making award-winning smoothies at our organic café in Burlington, Vermont since 2012. Our top-selling blends are now available anytime, anywhere as take + make frozen smoothies. Our organic smoothies are made with immune-boosting, detoxifying super food ingredients that are 100% dairy free. gluten free, soy free and GMO free.
Simple to make, our smoothies only require water and a blender! Pour back into original packaging for a handy to-go cup and enjoy our unmatched flavor profiles, that taste just like they came straight from our local smoothie bar!
---
Harvest Garden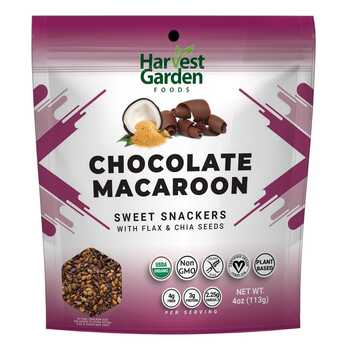 Harvest Garden Foods was created so customers wouldn't have to read the Nutritional & Ingredient list over and over to make sure everything in the product was healthy for the whole family. We believe we have accomplished that. Made with wholesome and clean ingredients our products are some of the healthiest you will find at your local supermarkets. We use the highest-quality super foods to give your body the nutrition it needs. Our Snackers & Crackers don't just taste delicious, they improve the overall health of all our customers.
---
Homefree Cookies
We prepare all Homefree products with great care in our own dedicated baking facility. From kitchen design, to staffing, to ingredients, Homefree treats are made with allergy safety in mind.
No peanuts, tree-nuts, eggs, wheat, dairy, soy (except lecithin), fish, shell fish, or sesame are permitted in our facility for any reason at any time. The only soy in our facility and some of our products is soy lecithin, which is tolerated by most (but not all) people with soy allergies. Our kitchen is dedicated gluten-free as well. Our delivery area is separate from the kitchen, allowing us to wipe down all ingredient deliveries. And our well-trained staff members wear Homefree clothing and shoes to avoid carrying in allergen traces.
Not only do we keep allergens and gluten out of our own facility, but also we are careful about where our ingredients come from, including requiring allergen and gluten documentation from every ingredient supplier. And we go further. We conduct our own allergen testing for peanut, almond, egg, and milk proteins on our incoming ingredient batches. Additionally, we randomly test our cookies for these allergens and for gluten.
We hope you will be as comfortable eating from our kitchen as you are from your own.
---
Joe Chips
We are an independent company with a capital "I". But that is about as far as the "I" goes because we are a "WE". We are a family business that was started from the trunk of a Dodge Intrepid. That was many, many, many miles ago. We have a great team of associates, distributors, and suppliers who we ask a lot of, some of the best retailers on the planet and, of course, incredible consumers – without whom there would be no business.
"What makes your stuff so special"? A simple answer is "Have you tasted it"? We do our best to make mindbogglingly, great–tasting stuff that sports our retro logo, which you can generally spot from across a large room. For those of you already in the know, we thank you for your support…
---
Little Lad's Popcorn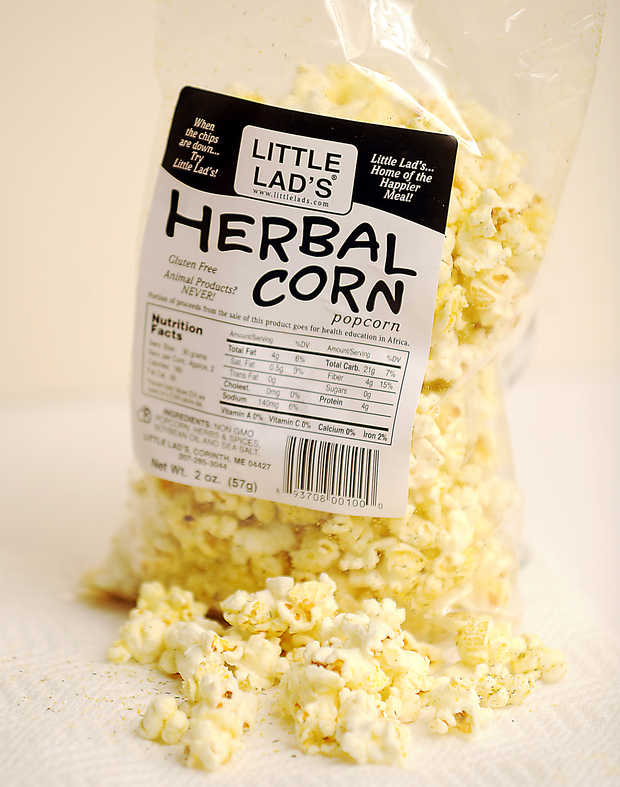 Why popcorn? Many years ago, we were searching for a healthy side dish to serve our restaurant patrons. We popped up a few batches of our family's favorite popcorn and customers enjoyed it so much, they started asking for bags of the popcorn to take home. Sales took off, and the rest is history. Today, Little Lad's pops thousands of pounds of corn kernels a week…that's a lot of corn.
Our overall purpose has always been to provide the highest quality of ingredients, at the most affordable prices, to enable people to enjoy better health without breaking their bank. Our goal is to prepare familiar foods with ingredients that are better for you, so the choice to eat healthy is easy because it tastes so good. When the "health kick" is hard to maintain, and does not taste good, ultimately people revert to the old unhealthy way of eating, so we try to combat that cycle by offering good-for-you food that also tastes good. "Enjoy the taste or your money back" is on our labels and we mean it.
---
Maine Pie Company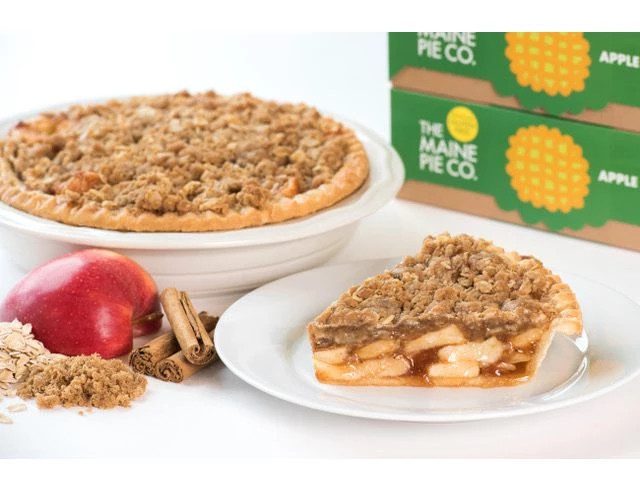 Jill Miller has over a decade of baking experience under her apron. She owned The Runcible Spoon in Nyack, New York with her husband Lou for 11 years, a full service bakery specializing in flavorful homemade pies. Focusing on their family, Jill and Lou then moved to Kennebunkport, Maine. Eager to put her hands back in the dough, they opened Port Bakery, another full service bakery featuring the same outstanding pies Jill was famous for in New York.
Over the years, Jill heard more and more customers ask for a gluten free option. She decided to take matters into her own hands, creating a gluten free crust that's not only moist and flaky, but delectably buttery too! Filled with an abundance of fresh fruit and the finest quality ingredients without preservatives or additives, Maine Pie Co's pies are a delightful treat for everyone.
Jill and Lou have built a designated gluten free kitchen in Biddeford, Maine where they create all their lab certified gluten free pies and products.
---
Maple Nut Kitchen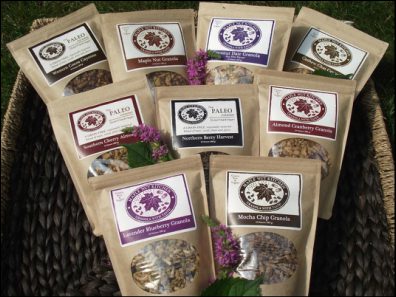 If you're a granola lover, you are in for a treat! We are proud to offer what many are saying is the best granola they've ever tried. We work hard to provide you with delicious granola made with only the best ingredients.
All of the flavors are made with gluten free and vegan ingredients, but you won't miss anything because they are filled with plump dried fruit, crunchy nuts and toasted oats. Each flavor is hand blended and then lightly baked to seal in the delicious taste. We love making Maple Nut Kitchen Granola daily, fresh out of the oven, filling the room with so many wonderful aromas! We hope you will try some of our award winning granola!
---
Me & Ollie's Granola Munch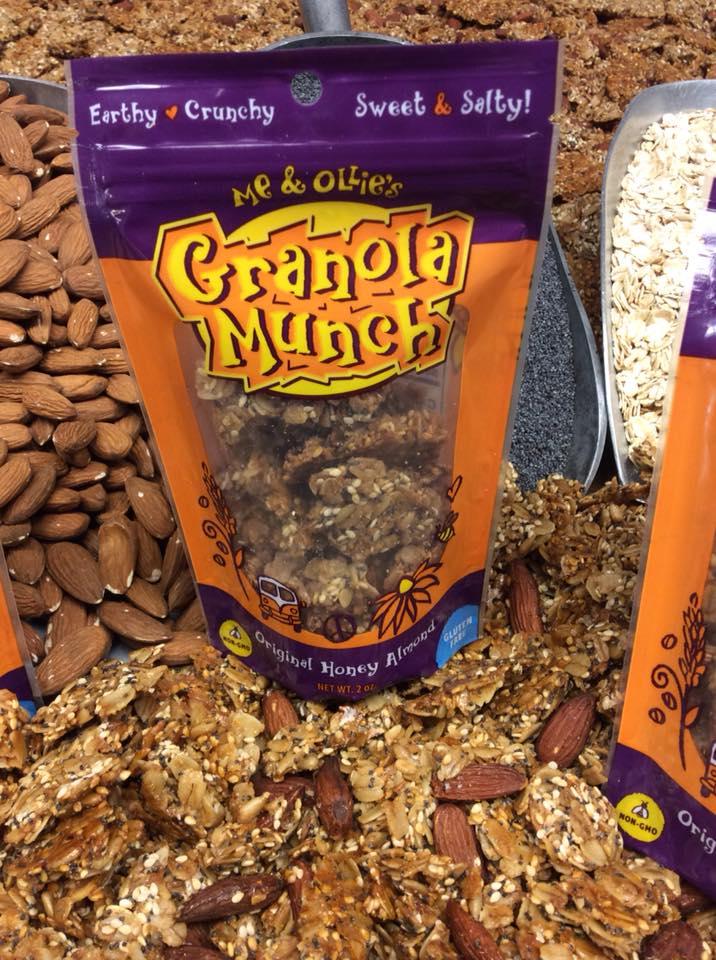 Me & Ollie's was born out of the love and respect for baking great breads, and the desire to bring good honest food to the seacoast communities. Our roots literally begin in the fertile grounds of Northern Montana home of our organic wheat. Big Sandy, Montana is home to our farmer [affectionately known as Montana Bob] and to the farms where the world's best hard red wheat is grown. This wheat is trucked to us across the country 45,000 pounds at a time to its destination: Me & Ollie's Bakery in Portsmouth, NH. Here we mill the wheat berries into fresh flour resulting in the best tasting most nutritious bread available.
We are now offering a new treat made from the same quality products as our bread! Our own gluten-free Granola Munch, made here in New Hampshire. An earthy, crunchy, sweet and salty treat made from tasty clusters of natural whole grains and nuts, sweetened with honey and a touch of pure vanilla!
---
Mitchell's Fresh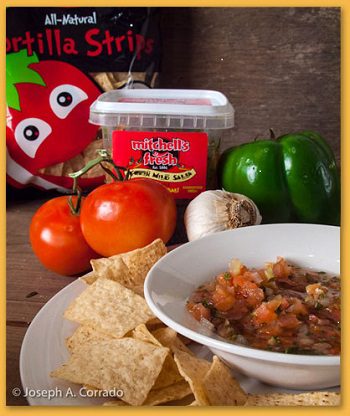 Mitchell's Fresh products have been in stores since 2006, but their gluten-free salsas, dips and strips have been in the works for over twenty years. Their products are made by hand in Concord, New Hampshire, using only the finest and freshest ingredients. They continue to perfect and expand a delicious line of food products.
Mitchell's Fresh line is now comprised of twelve (and counting) salsas and dips, as well as white and blue corn tortilla strips. All of Mitchell's Fresh products are made by hand with only the finest and freshest ingredients. And while the company's product mix and popularity have certainly grown over the years, their passion for having fun and producing tasty salsas, spreads and strips hasn't changed a bit. After all, Mitchell's Fresh believes in one simple truth — if it's not fun, it's probably not worth doing!
---
Nantucket Crisps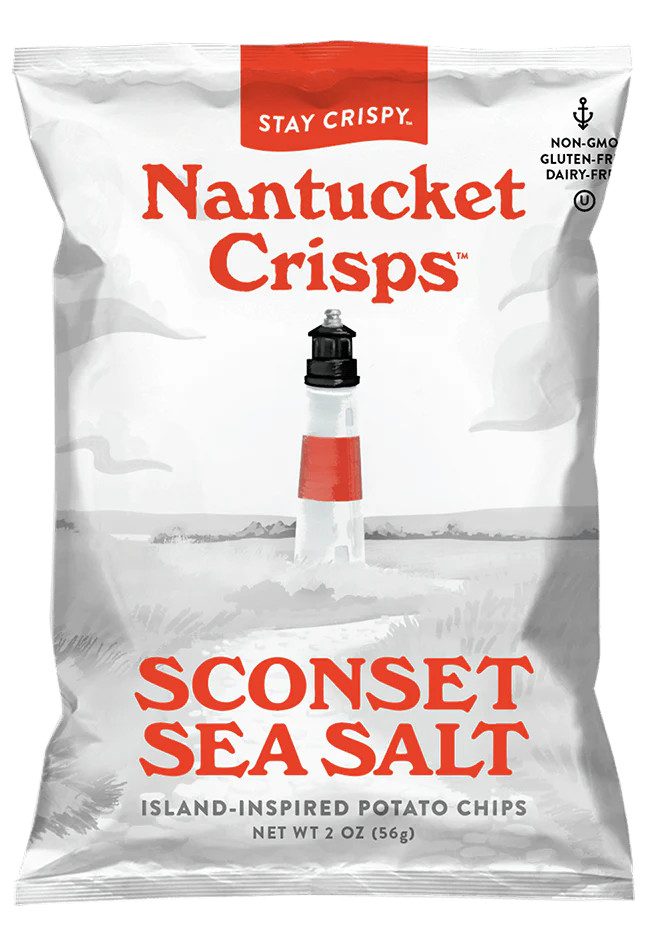 As kids, we spent our summers on the beaches of Nantucket, surfing and boogie boarding, fueled by our favorite sandwiches and potato chips. Beach days turned into beach nights and barbecues with family and friends where we'd eat even more chips. To us, potato chips are part of the quintessential Nantucket experience. We created Nantucket Crisps so the spirit of those beach days can live on anytime and anywhere. Made in small batches, there's a bit of salty breeze in every bite.
Nantucket Crisps flavors are inspired by the many unique locations on the island. All flavors are gluten-free, non-GMO, dairy-free, and Kosher. The crisps are slow fried with good oils in small batches to create the most mouth-watering thin and crispy chip.
---
Onesto Foods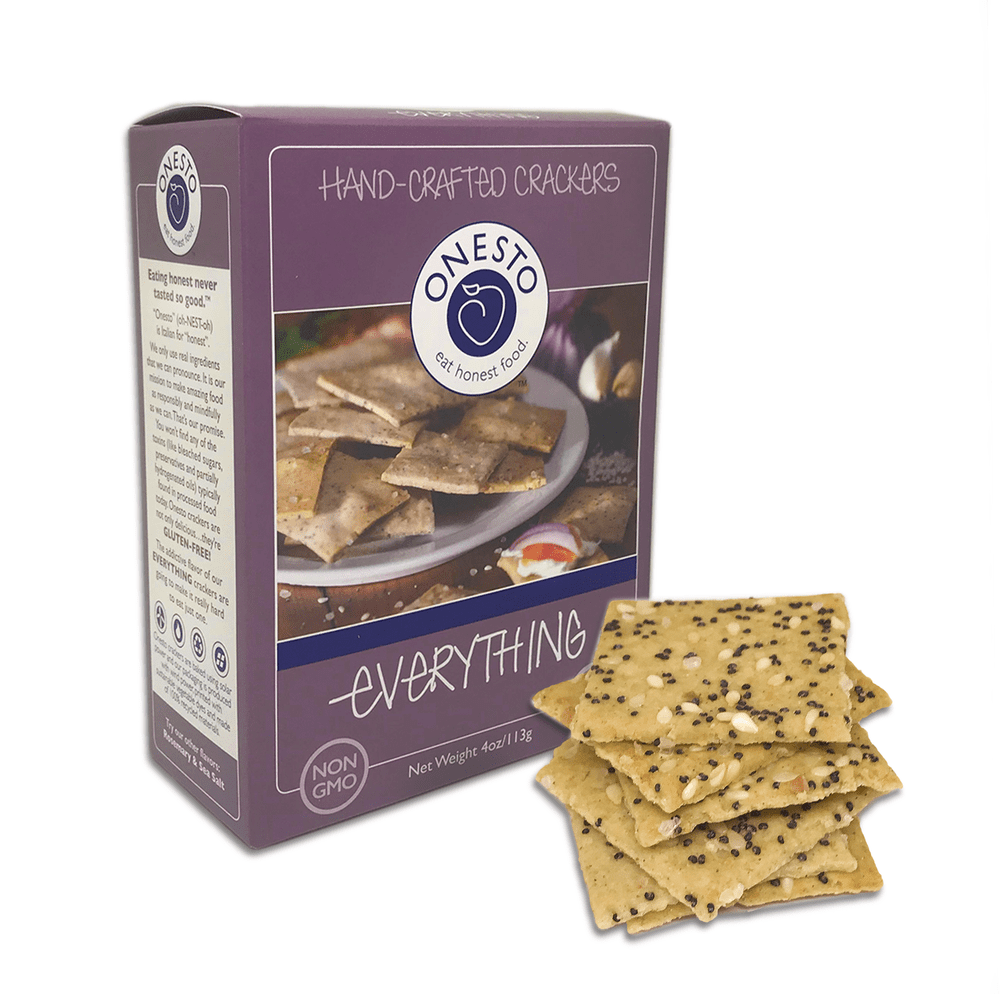 Just like you, we want to know what is in our food and where it comes from. Our crackers & cookies start with simple ingredients, nothing complicated. We strive to make food that we would want to eat, and feel good sharing with our kids. That's why, we want to be as transparent as possible. We want you to feel good about our products and what goes into them.
Onesto products will debunk the myth that healthy is synonymous with bland. Our food is not only delicious, it is good for you. Onesto Crackers and Cookies are wheat-, dairy-, and preservative-free; always hand crafted in small batches, the way food was meant to be made.
---
Papou's Falafel Burgers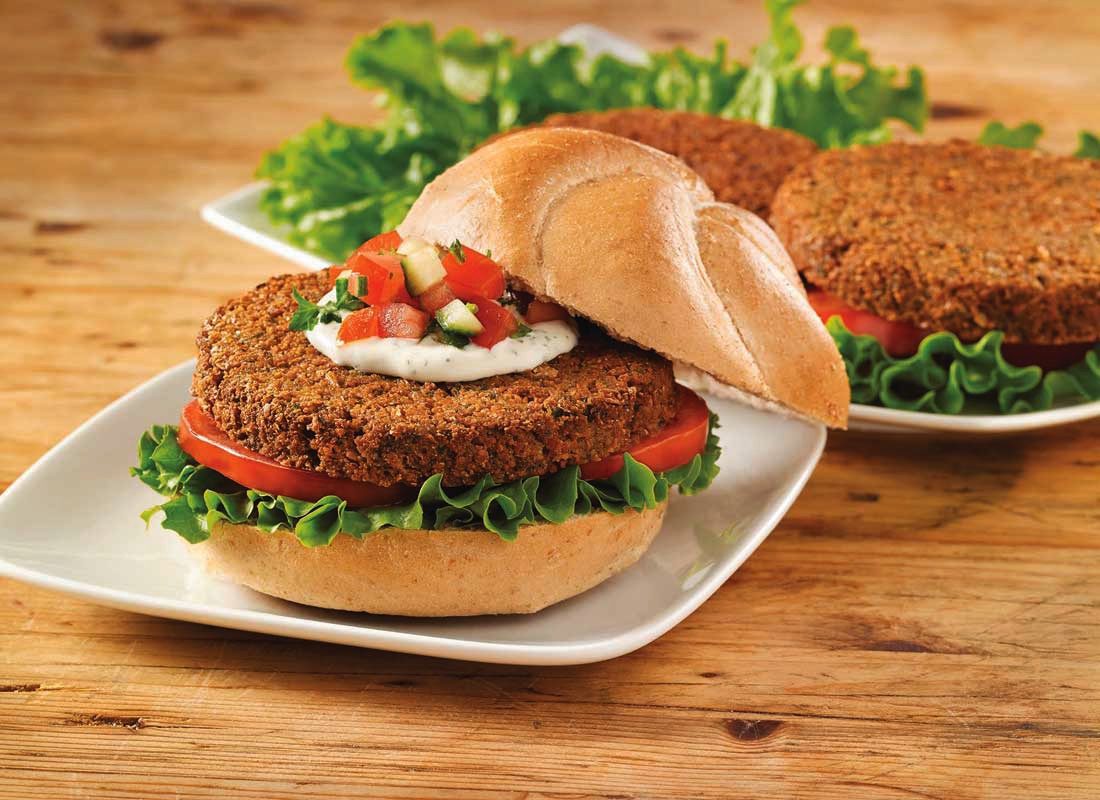 They call me "Papou".
Greek for grandfather. My eight wonderful grandchildren, along with my love of food and my Mediterranean heritage are what inspired me to create Papou's Kitchen.
Born in Greece, my family immigrated to the U.S. when I was seven. In my recipes, I honor the tradition of healthy Mediterranean eating, boasting back-to-the-land ingredients full of freshness and purity. Wrap that up with a love of family, community, and an old world work ethic and you have a blend I think is the best, the freshest, and the most flavorful around.
My falafel is 100% vegetarian, vegan and gluten-free. It's great rolled up in a pita, with your favorite dip, as a salad topper, or as an appetizer. However you enjoy it, know it comes from my heart, and from my kitchen to yours. Thank you for trying Papou's, and I thank my grandchildren for the love and the inspiration they've brought to this dream of mine. I am proud to be called "Papou".
---
Popzup Popcorn
"Popped by hand with love."
The Popzup Factory is a family owned and operated business in Dover, New Hampshire, where all Popzup Popcorn products are manufactured. Popzup Popcorn kernels are grown in Pennsylvania and all product ingredients sourced in the USA. And it's Non-GMO, vegan and gluten free!
All bags of Popzup Popcorn are popped in small batches by hand with pure, simple ingredients. Try any of our 4 delicious flavors: Butter Me Up, Cheddar Head, Cheesie Herbie (nacho), and Maple Cinnamon Toast.
---
Pulp Kitchen Juices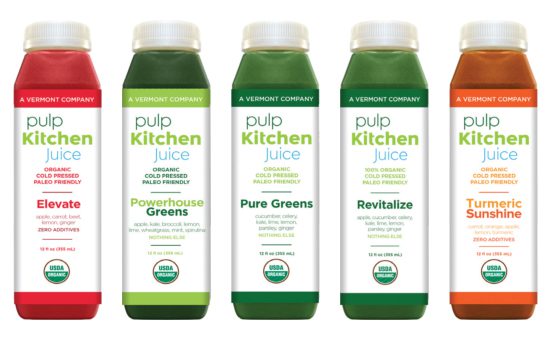 Our juices are 100% Cold Pressed, certified organic and gluten-free.
Pulp Kitchen is a Vermont based company, and we pride ourselves in using local organic farms to produce the best tasting, best for you juice in Vermont. We care about our community, the environment and treating people right. We are honored that you have come to our site and hope you enjoy the juices that we have carefully prepared for you.
The Pulp Kitchen family believes in making a juice that will benefit your health while taking care of our fragile earth and sustaining small farm families. Sometimes our juices cost more and sometimes less. We encourage our customers to do their research and judge our juices based on their taste buds and beliefs. We are certified organic and will always be completely transparent with what goes into our juices. We will never add preservatives or artificial flavors to our products.
---
Sammi's Stuff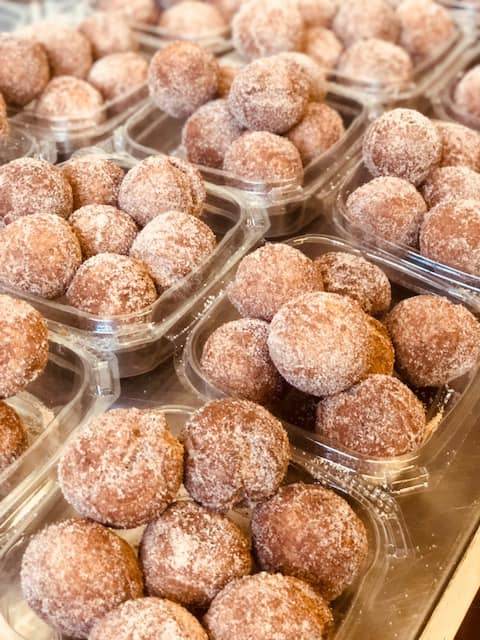 Hi, I'm Sammi! Eight years ago, following a long health battle, I was diagnosed as gluten intolerant and four years ago Sammi's Stuff was born – passionately turning a serious illness into a positive by taking my Great Grandmother's classic recipes and adding a little gluten free twist.
We launched with a sizzling #1 hit, Double Trouble Chocolate Cake, Grandma's favorite birthday cake, and the followed with another hit – our Hole Lotta Donut line and Apple Fritters! Starting in 2020 we expanded our line to include delicious Mini-Cakes and Scones! We take food allergies very seriously because I live with them myself. We have a dedicated Gluten Free facility and our products are gluten-free, peanut-free, tree nut-free, soy-free, all natural and non-GMO!
---
Something Sweet Without Wheat
Something Sweet Without Wheat, conveniently located in both Woburn and Arlington, MA, is an award-winning, unique bakery that has captured the repeat business of local and distant patrons, with an outstanding reputation for some of the finest gluten free and wheat free cakes, breads, cookies, muffins, pies, and more in the New England area.
Our Mission…
Our mission at Something Sweet Without Wheat is to provide fresh homemade gluten free baked goods to be enjoyed by everybody, with or without food allergies. We strive to reflect our passion and commitment through our employees' upbeat desire to supply only the best products. We believe that the effort to stay happy and healthy should still be appetizing! * All products are also lactose free with the exception of denoted items.
---
Swoffle Dutch Waffles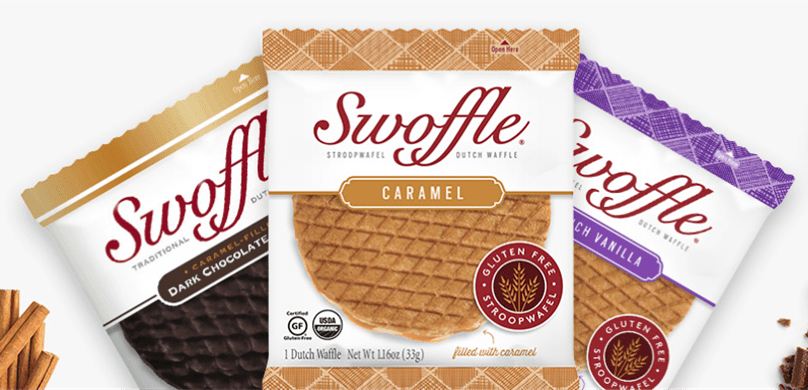 We are a father-daughter team with a passion for healthy and delicious food. Our gourmet Swoffle waffle cookies are inspired by the traditional Dutch treat, the "stroopwafel". Each Swoffle is made from organic, kosher, non GMO, gluten free flour with a layer of creamy caramel or french vanilla in the center and are an ideal compliment to a hot cup of coffee or tea.
Not only do we love sharing these great products with you, but we also care about making a meaningful contribution in our community. We have teamed up with local non-profits and through purchasing our Swoffles, you're helping to provide meals to those in need. Each month, Swoffle has been able to provide several thousand meals to food banks throughout the country.
---
Toufayan Bakeries
The Toufayan family's been baking breads with quality and care since 1926, the year we opened our first bakery. Still family owned over 90 years later, we're one of the largest, privately-held specialty bakeries in the United States, filling lunch bags, toasters and tummies with our fresh flat breads, pitas, bagels and snack-time yummies. Toufayan® Bakeries produces over 100 varieties of baked goods daily, including product options and innovations created to meet a variety of specific consumer needs, such as Gluten Free wraps and pita chips.
From our Corporate Headquarters and Pita plant in Ridgefield, NJ, to our two bakeries in Orlando and Plant City, FL, the third generation of Toufayans still carefully oversees every step of the manufacturing process, from ingredient sourcing, production and baking to packaging and distribution. Families have been relyin' on the fresh taste of Toufayan for generations.
---
Valicenti Sauces
Valicenti Pasta Farm is a small company made up of a small group of people who work diligently to make beautiful small batch sauces. Our mission is to grow, source, make, and provide good, wholesome, locally made, real food to our neighbors and the surrounding New England communities.